Famous El Dorado restaurant Poor Red's hopes to reopen in late 2015 | News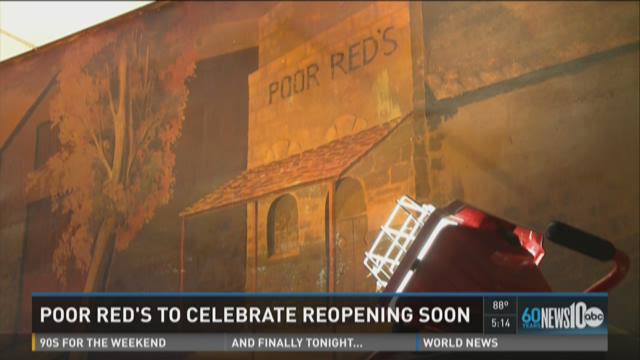 Maybe you've traveled to Poor Red's by car, limo or motorcycle. Could be you were on your way to, or from, South Lake Tahoe.
At the busy intersection of Pleasant Valley Road and Highway 49, in the historic town of El Dorado, sits Poor Red's. Maybe you've been a thirsty traveler stopping by. The building's been there since 1856. Since the 1920's, it's been a watering hole.
Poor Red Sadler was always seated at the bar with his wife, "Rich Opal." Sadler won the bar in a card game in 1948.
After being closed two years ago due to tax issues, it's coming back with new owners.
Jeff Genovese is one of three investors bringing Poor Red's back. "It means a lot to the people here, the town of El Dorado, Sacramento area, Placerville...the jobs we're going to bring back, the people coming in the door all have a story to tell, anybody that's ever been here has a story to tell and that's all going to come back."
The bar will remain just the way the stories tell. The new owners will leave the murals up depicting the gold rush days and the town of El Dorado as it used to be: tales of the old west.
Mike Hountalas will handle the kitchen and is one of Poor Red's investors; "I don't know if we want to let the cat out of the bag, but we're also looking at finalizing our label for our own red…a Poor Reds's red. We went out and tasted but we don't want to let too much out yet."
The small dining room is being remodeled and the walls being stripped to reveal the original rock. The kitchen and menu is getting a classy re-do and they'll be adding a second dining room to take seating from 35 to over 100. The barn next to the bar will become a patio area to seat more people for dinner.
As for the food, historically, by the time you finished several Gold Cadillacs at the bar, it didn't matter what the food tasted like. "There have been times that i was in here where I wasn't sure if what I had was what I ordered, but I went with it and that was part of why it was great and maybe why it failed a little bit," added Hountalas.
Poor Red's was closed about 18 months ago after the prior owners were jailed on tax evasion charges. While we were there on the story, numerous people came by to ask about when it'll reopen.
It's not that the buzz for Poor Red's is back. It never left.
The new owners were working on finalizing bids from contractors and were close to getting permits from The County of El Dorado, whom they said have been good to work with. The new owners said work will take about three to four months to complete with a hopeful start date in the next few weeks.
The target date to open Poor Red's is by the end of 2015.